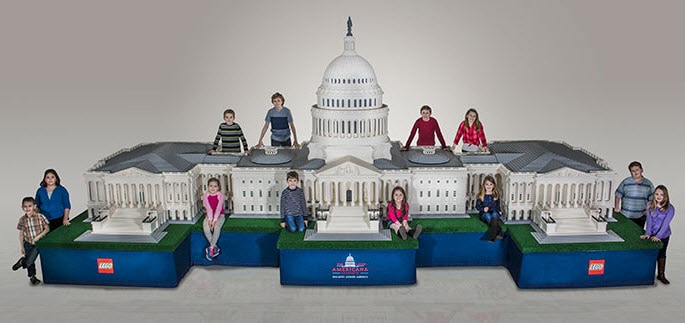 Dates: Feb. 18 - March 5
Location: Stonebriar Centre, Frisco, TX
Price: FREE to attend
LEGO enthusiasts far and wide prove that if you build it, they will come. Fans of the popular toy, along with many others, have already ventured out to see the fun and educational LEGO Americana Roadshow, and soon the tour will be making a stop right here in the Dallas area.
The LEGO Americana Roadshow features awesome models of famous U.S. buildings, as well as an interactive play area where you and your kids can build anything your imagination dreams up.
Thousands of LEGOs are used in the exhibit, which includes huge models of the following 10 historic sites:
White House
Washington Monument
Jefferson Memorial
Lincoln Memorial
Liberty Bell
Statue of Liberty
U.S. Capitol Building
Independence Hall
Old North Church
Supreme Court
As you can tell from the image above, the models really are gigantic, and when you get an up-close look, you'll see the amazing detail that goes into them.
Along with incredible LEGO models and a LEGO brick play area, there's also a LEGO Scavenger Hunt, LEGO car races, and a free LEGO build and take on Feb. 25-26. At the latter, you can build a mini White House and take it home with you as a memento.
Before you visit the event, make sure to download or print this free guide, which offers a lesson plan that you can use with your kids when you attend.