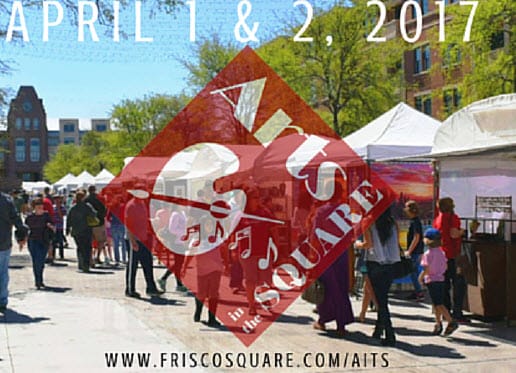 Dates & Hours
April 1-2, 2017
11 a.m. to 6 p.m.
Location
Simpson Plaza
Frisco, TX 75034
Colorful paintings, glittery glass sculptures, unique jewelry and more await you at Arts in the Square!
Frisco's annual juried arts and crafts festival promises dazzling sights around every corner, with more than 120 renowned artists from all over the Southwest in attendance. If you've been yearning for some new paintings to hang on the wall or one-of-a-kind sculptures to show off your good taste to friends, don't miss the two-day event on April 1-2, 2017.
Numerous media are represented at Arts on the Square – from textiles and photography to paintings, pottery, wood work and much, much more. Along with viewing a large outdoor art exhibit, you can also watch live performances of all sorts and grab lunch at one of many food vendors or local restaurants.
If you have never attended this cherished annual event before, don't miss out! It only comes around once a year. Check out highlights from previous Arts in the Square events in the video below to see what it's all about.
Proceeds from Arts on the Square benefit the Frisco Education Foundation and Frisco Family Services. The event is presented by Frisco Square in collaboration with Frisco ISD.