Nissan ProPilot Assist Overview
Pro-Pilot Assist is a Nissan-designed driver-assistance program that allows you to collaborate with your vehicle for the safest, smoothest drive possible. It's designed to do away with the frustration of stop-and-go driving, works in conjunction with a forward facing camera that monitors your attention, and is the very closest thing the world has right now to a "self-driving" car. Sure, the Pilot won't do everything for you. But it comes very close. Our mission here today is to go over some of the more advanced features of ProPilot Assist. Even beyond adaptive cruise control and automatic braking, you're going to find features that boggle the mind (in a good way of course).
Advanced ProPilot Assist Features
First things first: ProPilot is NOT a fully autonomous self-driving vehicle. But it gives you dozens of advanced features that keep you safer and freer on the road than ever before.
Lane Keeping Assistance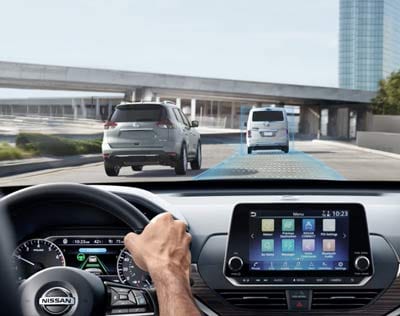 Thanks to front radar censors, your forward-facing camera, and a little help from ProPilot, you'll get help maintaining your lane and keeping a safe distance from the vehicle ahead. ProPilot can even make small adjustments to your steering wheel to alert you and keep you centered.
Speed Control
Speed is the culprit behind a lot of accidents on the road, but ProPilot is going to be in charge from now on. You preset your speed at the click of a button, and you're going to stay at that speed until ProPilot detects something in front of you and adjusts your speed for you. It's more than cruise control. Unlike cruise control, which requires you to take charge when a vehicle is in front of you, ProPilot senses the vehicle in front of you and adjusts your speed via automatic braking and then acceleration when the time comes.
One-push Activation
Activating ProPilot Assist is a breeze! It can be accessed and activated right from your steering wheel, allowing you to make adjustments when you're in the mood to control things yourself. And this is one of the most advantageous features, given that you don't have to remove your eyes from the road to activate.
Complete Stops
Complete stops were not possible in the past. Thanks to ProPilot Assist, your Rogue and Leaf can come to a complete stop when the traffic situation warrants the action.
As you can see, ProPilot can control all the essential functions of driving: Acceleration, steering, and braking. Best of all, it still leaves you in control at all times, with the push of a button, you can regain control and take over. More features will be added to future editions of ProPilot, one of the first truly futuristic driver-assistance programs in the world.
Test Drive A Model with ProPilot Assist Today
Nissan did ProPilot Assist right, and you can take advantage of it when you buy a Nissan Rogue or Nissan Leaf. In the next 5 years, Nissan hopes to introduce ProPilot Assist to 20 additional models, giving you more control than ever before over each of your Nissan vehicles. If you'd like to test out ProPilot Assist today, it's as simple as calling us and scheduling a test drive! There's no need to wait for the future to get here. It's fully here today! Reach out to us today via our website, give us a call, or stop by to discuss the many virtues of Nissan's ProPilot Assist. We'll give you information you need or schedule a test drive.