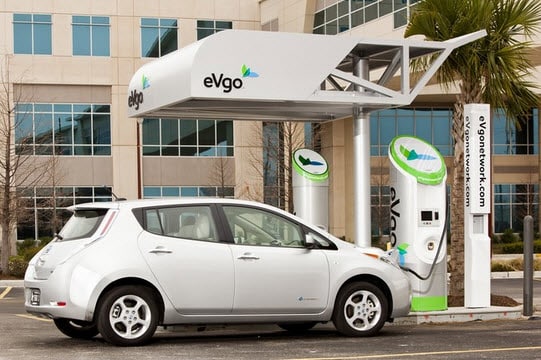 For owners and prospective owners of the Nissan LEAF, being able to charge up on road trips is crucial. Just like other car drivers need to stop for gas, EV owners must top up on electricity when power's low, and EVgo's network of fast charging stations is making this easier than ever.
Nissan has partnered with BMW yet again to increase the number of EVgo DC Fast charging stations available for public use. There are now an additional 174 stations and over 50 more will be installed across the country during 2017. The dual-port chargers have the ability to power an electric car up to 80 percent in just 25-30 minutes, unlike Level 2 (240V) chargers that take longer yet are still the most common units available for public use.
However, thanks to backing from automotive manufacturers like Nissan, the number of EVgo fast chargers is rapidly increasing. Finding the chargers is super easy, too. Drivers can simply look them up with the Nissan LEAF EZ-Charge smartphone app, which is available for both iPhone and Android devices.
EVgo DC Fast chargers can be found in 33 states around the U.S., including Texas, Georgia, Florida, Tennessee, Virginia, Arizona, California and other surrounding states. Check out the diagram below to see for yourself!