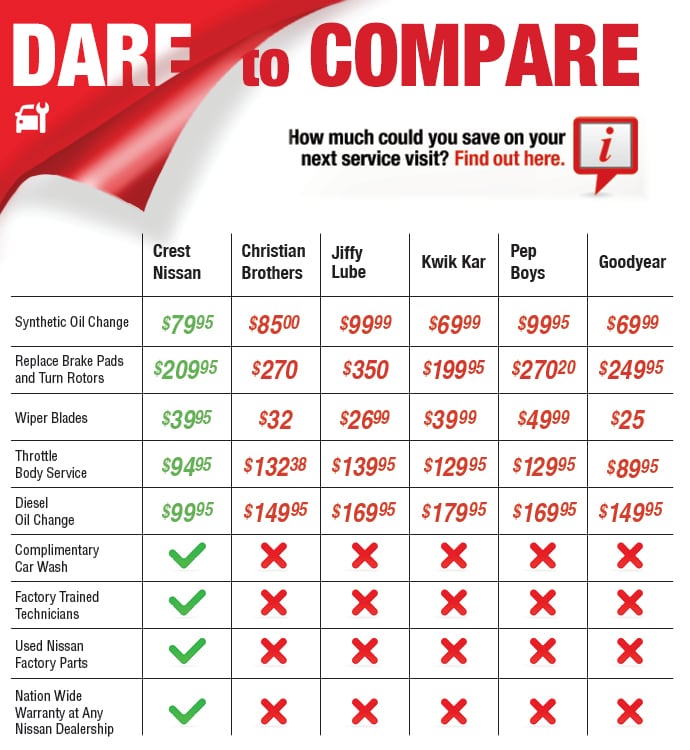 Here at our dealership, we proudly offer you a wide selection of great cars at competitive prices and an amazing service department. We have been in business for years, and love being able to make a difference in the lives of our customers. When you look for services from a Nissan dealership, there are a few attributes you should look for:
Strong work ethic
Integrity and honesty
Willingness to work with customers
Friendliness
Competitive pricing
At Crest Nissan, our customers trust that we will stand behind them, serving the community for many years. If you compare us to the competition, you will find that we stand out.
Auto Repair that You Can Trust
When you hire an auto mechanic, you want to make sure that they are honest and will do a great job. We have become respected members of the community because people have noted us for our honesty as we built ourselves on the principle of, "We exist to return value to you." Working with you has become one of our deep-seated passions because we know that we can serve the community better through higher standards.
Schedule an Appointment Today!
Let's say that you want to get your car worked on. You can do this by scheduling an appointment through our online portal. Our company will work with you, and we set things for flexibility. You can trust that when you go through us, we will work with your schedule. Getting in with mechanics has sometimes been a problem, but we're here to help.
Why Do Customers Choose Crest Nissan?
You have a few reasons that customers have chosen us over the competition. Some of the reasons that people choose us over the competition include:
OEM Nissan auto parts
Weekly specials
Stress-free maintenance and repair
When people go through us, they can trust that they will receive strong and dependable service. We went into business to serve you. While you're waiting on the repairs to finish, we have a guest lounge where you can sip some coffee, watch TV and connect to our free wi-fi. We want you to be comfortable while you're waiting on our certified and licensed technicians to finish working on your car. You can trust when we complete a repair, it will be done right.
Hours
Monday

9:00am - 9:00pm

Tuesday

9:00am - 9:00pm

Wednesday

9:00am - 9:00pm

Thursday

9:00am - 9:00pm

Friday

9:00am - 9:00pm

Saturday

9:00am - 9:00pm

Sunday

Closed