Commercial Vehicles
If your business requires meeting with your customers one-on-one, then the vehicles you choose for your business are absolutely critical to the overall success of your business. Of course, even when purchasing this essential business asset, you've still got a budget to adhere to. That's why we take pride in offering the full line of Nissan NV commercial vans to ensure you get a durable and reliable vehicle for a great price.
Whether you need a full-size van, such as the NV Cargo or NV Passenger, or something more compact, such as the NV200 Compact Cargo minivan, we've got experts ready to assist you and help you find the perfect solution for your needs.
A Great Deal
A great van won't mean much to you if you don't get a great deal when purchasing it. That's why we offer a full range of financial incentives to help make your new van as affordable as possible. Incentives include our dealership discounts, plus Nissan manufacturer incentives that can help transform your van from an empty shell into a full-on work vehicle.
An Adrian Commercial Steel Upfit for Your Needs
A van is like a blank canvas: by itself, it's not worth much to your business. However, with the available Nissan Commercial Incentive Program, you can take your new van from blank canvas to finished masterpiece. Through this program, qualified shoppers can receive a base Adrian Streel upfit package to help keep your van organized with all your necessary supplies and tools.
Both options for this upfit, the Cargo Management System or the Utility Package, feature a steel cabin/cargo partition for safety and organization. In addition, the Cargo Management System offers three 44-inch shelving units, while the Utility Package offers either an outside or inside utility rack.
Get Your Message Out There with a Graphics Package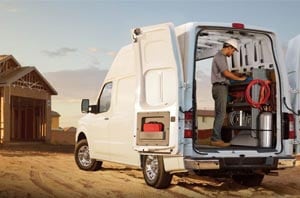 In addition to making your new Nissan NV useful for the work you do, the Nissan incentive package also makes it easy to let others know about your business. Offering up to 70 square feet of exterior graphics for your van, you can easily create a rolling billboard that speaks for you wherever you might find yourself. There's no need to worry about installation fees, either, since those are covered, as well.
Of course, if you have other ideas for your new van and don't need any of these modifications, there is a rebate program available to ensure you still get the most value out of your purchase.
Whether you're searching for a van in Frisco, Richardson, Dallas, Plano, or any of the other surrounding areas, you can be sure that we have a wide selection of commercial vans available at our dealership. We offer a wide selection to ensure we can stock numerous different configuration options so you're only ever getting exactly what you need and nothing else.
Plus, with our caring and knowledgeable staff, you'll know from the moment you walk in the door that you're in good hands. Your business is waiting to grow, so check out our selection of vans as soon as you can.