Nissan GT-R Review for 2016 Model Year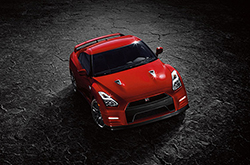 As one of the most popular sports cars on the market, the Nissan GT-R is the high-powered coupe that speed lovers have been driving for years. This model year, the GT-R adds additional horsepower to its main GT-R coupe model, while the Premium trim gets a few impressive upgrades and the Track Edition trim is dropped from its lineup.
Shoppers looking for their next sports car will find a lot to love in the 2016 Nissan GT-R in Frisco. The supercar comes in three distinct trim levels, including the 600 hp NISMO edition. Looking first at the entry-level Premium trim, this GT-R model gets several pieces of fantastic standard equipment, including 20-inch forged alloy wheels, an adaptive suspension, LED adaptive headlights, a rearview camera, leather and simulated-suede upholstery, and an active noise-cancellation system.
The coupe's Black Edition adds more sport features, such as lighterweight black alloy wheels, leather Recaro front sport seats, unique black and red interior trim, and a carbon-fiber rear spoiler. The top-of-the-line GT-R NISMO is the most powerful edition of the supercar. Many 2016 Nissan GT-R reviews highly recommend this car to speed junkies who are looking for not only power, but also style and affordability. This NISMO adds even more power to the coupe, while the car also gets body reinforcements, aerodynamic upgrades, distinct interior trim and firmer suspension tuning.
Under the hood, the 2016 Nissan GT-R in Frisco boasts a turbocharged 3.8-liter V6 engine that produces 550 horsepower and 463 lb.-ft. of torque on the car's base models. The GT-R NISMO gets an upgraded version of the powerful V6 that pushes its horsepower past 600 with 481 lb.-ft. of torque. Many 2016 Nissan GT-R reviews have called out the GT-R's engine as an "impressive beast" that sports a "jaw-dropping" ability to accelerate from 0-60 mph in just 3.2 seconds.
Check out the rest of our review below to find a full list of specs and features, as well as a video review and links to inventory. If you would like to test drive a 2016 GT-R in the Dallas area, stop by Crest Nissan today!