2016 NV Research and Review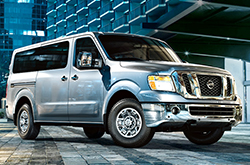 Nissan's NV cargo and passenger vans are some of the most popular vans for small businesses around the Frisco area, supplying power, comfort and agility. To learn all about the terrific changes on the full line of 2016 Nissan NV vans near Dallas, keep reading the rest of our review below.
The Nissan NV is available in three models: NV Cargo, NV Passenger and NV200 Compact Cargo. Looking first at the NV Cargo model, shoppers who choose this version of the van will find outstanding utility that is outfitted specifically for the needs of cargo-hauling small business owners. Many 2016 Nissan NV Cargo reviews have praised the van's wide cargo floor, square-top wheelwell housings and near vertical sidewalls. These reviews also love the cargo van's body-on-frame construction that provides all the necessary toughness that people expect out of their cargo vans. New for this model year, the NV Cargo van gets even more safety features added to its wheelhouse, as well as a new exterior color: Cayenne Red.
The 2016 Nissan NV Passenger van in Frisco also sees some nice enhancements this model year, such as more technology on its range-topping SL trim and two new exterior colors: Cayenne Red and Pearl White. Offering the most flexible seating configurations in its class, the NV Passenger van is the ideal choice for those who need to haul a lot of people safely and comfortably.
Finally, the NV200 Compact Cargo van is the perfect option for small business owners who need a van that offers exceptional cargo capacity, but with a more efficient powertrain. This model year, the NV200 also gets a new paint color, Taxi Yellow, while carrying over most of its popular features from the year before.
Under the hood, several 2016 Nissan NV reviews have also praised the van's various powertrains. Drivers can choose between a 4.0-liter V6 and a 5.6-liter V8 on the NV Cargo and NV Passenger vans, while the NV200 Compact Cargo comes with a very efficient 2.0-liter four-cylinder.
For more information about any of the 2016 Nissan NV vans, stop by Crest Nissan today and speak with one of our expert sales associates.