Do I need new tires?
At our tire shop in the Dallas area, we strive to help our customers maintain the health and performance of their cars. While often overlooked, tires are a big factor when it comes to this, so if you need new Nissan tires or a set for any other make and model, don't hesitate to get them replaced at our auto repair shop in Frisco sooner than later. Here are three main ways to tell when your tires need to be replaced:
The tread is lower than 2/32" (1/16")
There are deep cracks in the rubber, often due to prolonged sun exposure or old age
There's a bubble or bulge in the sidewall, which means there's an air leak that could lead to a dangerous blowout
How can I tell when my car needs a tire alignment?
Car pulling left or right
Uneven tread wear
Crooked steering wheel when driving straight
In truth, sometimes it can be hard to tell, especially because misalignment happens very gradual; but it's important to keep in mind that any deviance can negatively affect your tires, even if it takes time to show. That's why you should get a tire alignment check twice a year. And if you are due for service, Crest Nissan can assist you with getting a tire alignment in the Dallas area for an affordable price.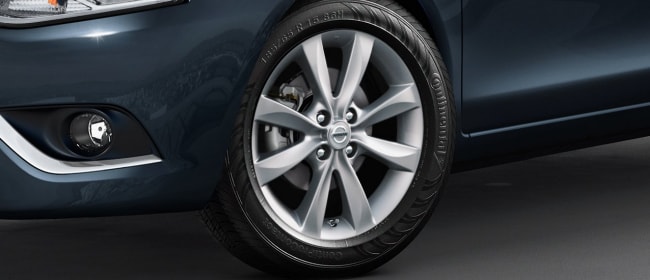 When to rotate and balance tires
This varies based on driving behavior, but it's generally recommended to have your tires rotated and balanced about every six to eight months. Neglecting tire rotations could mean money down the drain if the front tires wear much faster than those in the rear; rotating them promotes slow, even tread wear, so that your tires will last longer. Balancing is equally important, especially if you enjoy a smooth ride; unbalanced tires often cause uncomfortable vibration.
Good tire places near me
Before you head to the Discount Tire Store, contact our tire shop in the Dallas-Forth Worth metro for a quote. We offer competitive prices - plus you can check our service coupons to see if any savings are currently available.
As your local tire repair center in Frisco, our certified technicians are also here to assist you with all manner of tire-related services, from alignment to rotation and tire balancing!