When you buy a modern Nissan, even a used one, you are getting a car with the potential to easily last 300,000 or more miles and to hold its resale value as well as just about any other car on the market. But all this depends on the vehicle not experiencing any form of catastrophic mechanical breakdown. One of the best ways to prevent such an outcome is by ensuring that your Nissan transmission is adequately cared for, sticking to a manufacturer-approved transmission servicing and fluid-changing schedule
How Early Should I Service My Transmission?
Modern transmissions can fool car owners into believing that servicing them is a low-priority concern. This is due to the fact that, today, many new cars do not require any kind of transmission servicing for the first 100,000 miles of the vehicle's life. However, this obscures the fact that as cars move past the 100,000-mile mark, servicing the transmission on a regular basis becomes much more important.
The good news is that with a few simple maintenance steps, almost all serious transmission problems can be avoided. But it is imperative, especially for those with higher-mileage Nissans, to adhere to the manufacturer's recommended transmission servicing schedule.
When should I have the transmission fluid changed in my Nissan?

What an optimal transmission fluid-changing and servicing schedule looks like for your particular vehicle is something that only one of our dealership's expert technicians can answer with any accuracy. If you have any questions about how often you should be taking your vehicle in to be serviced, please contact our dealership as soon as possible. One of our experienced and knowledgeable agents will be able to devise a maintenance schedule for your vehicle to both lower costs and maximize longevity.
How Often Should I Get Maintenance?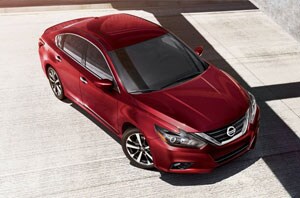 Overall, there are a number of factors that consistently affect how often a vehicle's transmission should be serviced. The type of driving being performed with the vehicle is an important consideration. Cars that are driven in hot climates will experience more stress on their transmissions that their moving parts due to the added heat. Also, vehicles that are primarily driven in high-demand urban environments are likely to need servicing more frequently than those that are driven primarily in rural areas or on the highway.
Another consideration is the type of transmission that is installed in the vehicle. Generally speaking, manual transmissions are far more durable than automatics. This is due to the fact that they generally have fewer moving parts and rely less heavily on friction surfaces to generate the desired force multiplication. This is especially true for modern forms of highly complex and computer-driven automatic transmissions, such as CVTs. These units often require far more frequent maintenance than simple stick-shift-based vehicles. If you have any questions about your Nissan transmission maintenance, please contact our dealership today.