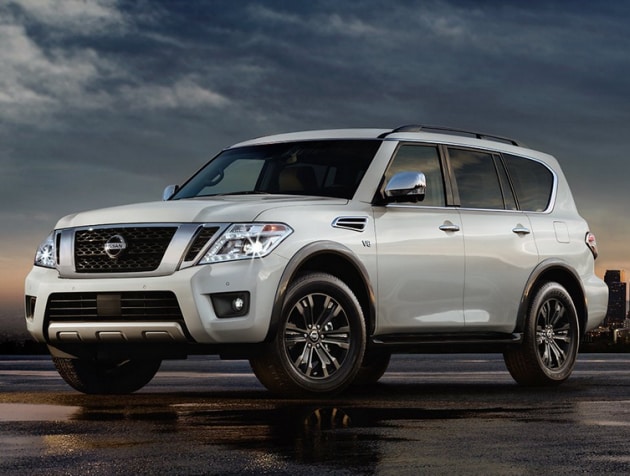 Crest Nissan was recently happy to provide a new 2017 Nissan Armada to a local blogger, wife and mom of two kiddos who wanted to test it out for a few days. Elaine first got a glimpse of the SUV when she took a visit to the Texas State Fair car show. At first glance, Elaine thought it was an INFINITI QX80, due to its upscale styling no doubt, but soon she realized it was the Armada and it was "love at first sight."
After outgrowing their Honda CR-V, Elaine's family was shopping for a new utility vehicle, and they narrowed the choice down to the Nissan Armada L and Ford Explorer Sport.
In the full review on House of Hargrove, Elaine talks about her time with the Armada. A few highlights include:
"I took 'her' (my Armada was a her) out to dinner for girls night. My friends loved it. They said it was beautiful, spacious and a great ride."
"I couldn't love the way it looks more. I think it is such a pretty car and the finishes are all beautiful."
"I LOVED their camera features. They show a split screen where you see your front camera, but also a camera from the top … GREAT feature!!!"
"It was very easy to install the car seats, there was tons of room, with the captain seats and console removed it will be perfect for easy access to the back row."
The 2017 Nissan Armada is fully redesigned, offering upgrades such as enhanced power from its V8 engine, a more upscale interior and a more muscular look.
The new Armada is sold in SV, SL and Platinum trims, all of which are well-equipped. Standard amenities include a rearview camera, Bluetooth Hands-Free Phone and Audio Streaming, navigation, keyless entry and push-button start, automatic LED headlights and roof rails.
Visit our Nissan dealership in Frisco to try out the Armada for yourself and see if it's right for your family. Also, compare it to other cars and SUVs that we have on sale among our used car inventory!